Salesforce World Tour London
Last week, the UK leg of Salesforce World Tour was held in London's ExCeL centre, and we were invited along for the ride!
The hybrid event was structured seamlessly, with business leaders invited to attend the conference in person, or watch the event unfold in real-time from the comfort of their own homes and offices. Now that World Tour London is over, you can also stream the whole thing on-demand on Salesforce+ here.
Key Takeaways
Over the course of the day, a number of insightful talks were held. Guest speakers included Sir Lenny Henry CBE and Paralympic Medallist Millie Knight, and audiences were treated to a keynote speech by Salesforce's CEO for UKI: Zahra Bahrololoumi and the COO of Currys: Lindsay Haselhurst about how Customer 360 is empowering organisations to succeed from anywhere.
The power of data driven insights and developing sustainable growth were very hot topics at the conference – both of these points were given their own spotlight via powerful talks from a passionate team of Salesforce experts. Additionally, many discussions were held around supply chain transparency, building customer loyalty, and the power of communication – all unsurprising, as tech leaders look to the future of what doing business actually looks like.
As the day drew to a close, event attendees flocked to the ExCeL centre's nearby restaurants and bars to unwind following the fast-paced conference. Since then, positive feedback from sponsors and invitees has poured in, marking World Tour London 2022 a huge success. We certainly enjoyed ourselves there and we look forward to the next one!
Our Networking Event
We were invited by our friends at Salesforce to host the official Public Sector networking event for World Tour London – an exclusive event designed to build relationships and strengthen connections between the UK's public sector, Salesforce leadership, and our team of experts.
Over the course of the evening, we welcomed up to 150 guests to a private entertaining space within Fox Bars, just a stone's throw away from the ExCeL centre where World Tour was held. Following the conference, guests were able to let off steam away from the hustle and bustle of World Tour, joining our experts for a few drinks, some delicious food, and the opportunity to discuss the future of digital transformation within the public sector.
Informative Talks
The evening also featured two brief talks from the Bluewave team: a short intro to Bluewave presented by our CEO – Harry Dunne, as well as a whistle-stop tour of Salesforce's Net Zero Cloud platform and a presentation on carbon accounting by our Business Development Director and Sustainability Lead – Finian Quinn.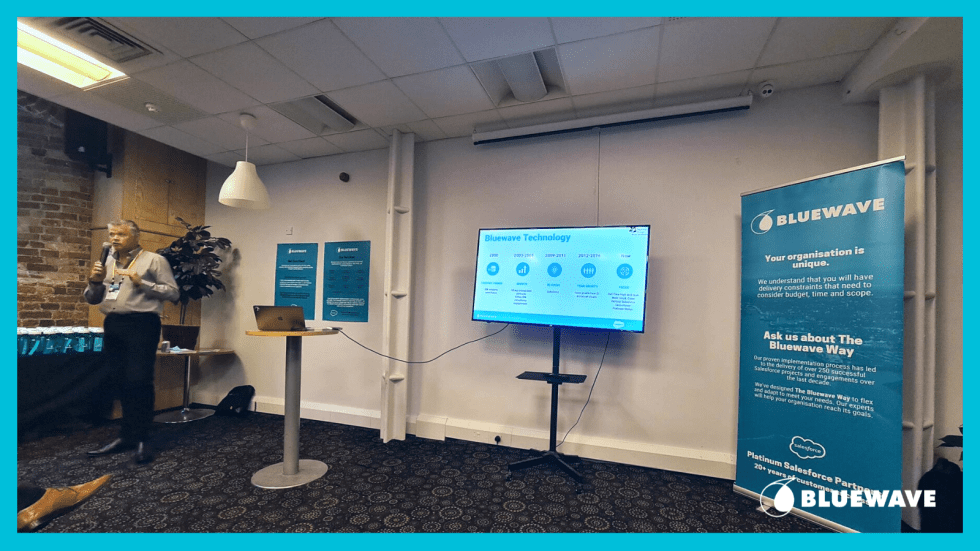 Sustainability is a cause that's close to our hearts as a business, which is why we paused the festivities briefly to take our audience through the ins and outs of Net Zero Cloud, explaining how the solution can help forward-thinking public sector organisations become a platform for change, but also bring in added value via cost-saving and increased efficiency. The solution is also built to help organisations reach carbon neutrality goals faster, providing visibility across Scope 1, Scope 2, and Scope 3 emissions, and helping users to track a path towards Net Zero carbon.
Huge thanks to everyone that joined us at the official Public Sector Networking Event for Salesforce World Tour London 2022. We hope to see you again at our next gathering. For everyone that couldn't make it, please keep an eye on our Events/Blog page for upcoming events and messaging from us.
If you'd like more information on how our Salesforce powered solutions can help take your organisation to the next level, contact our experts today.